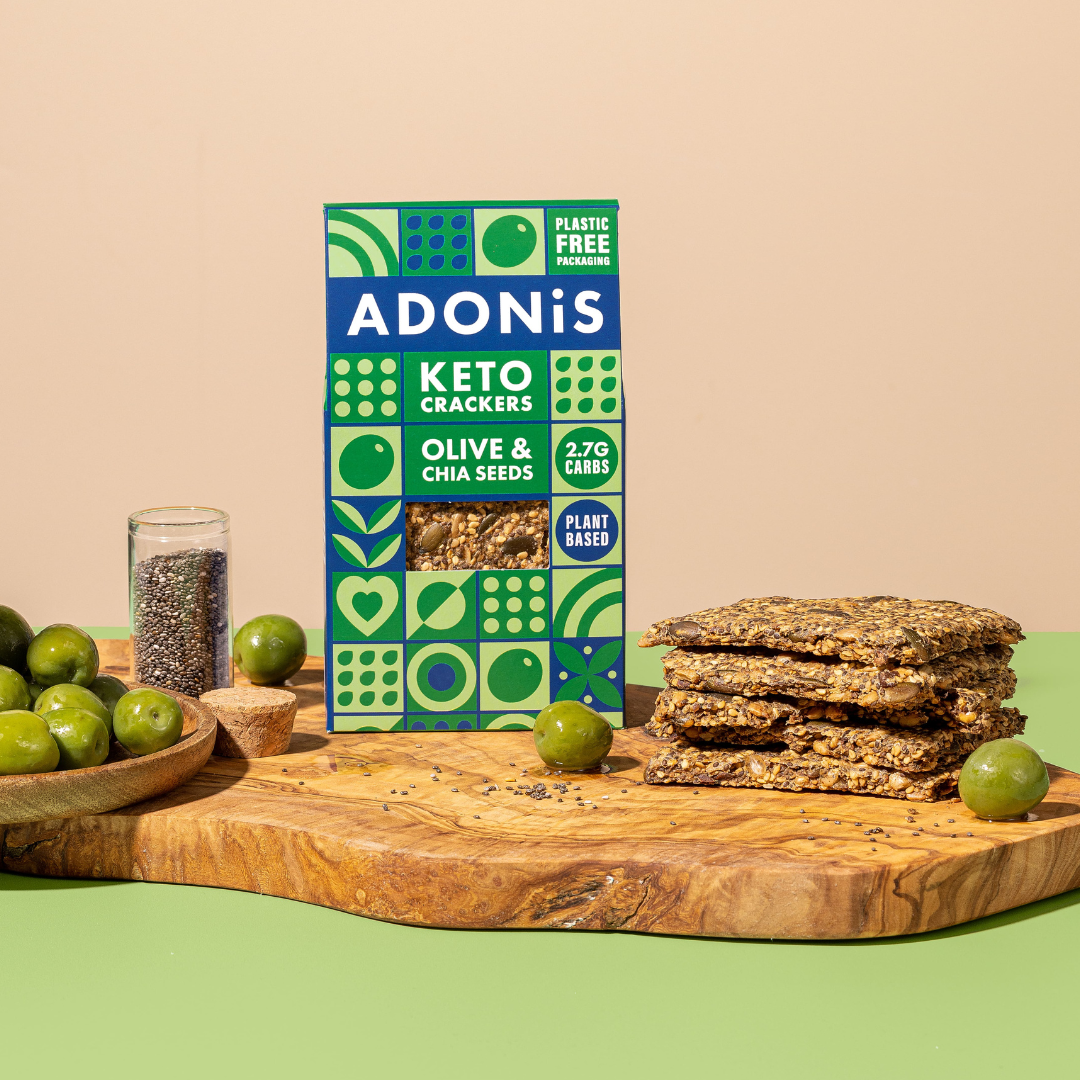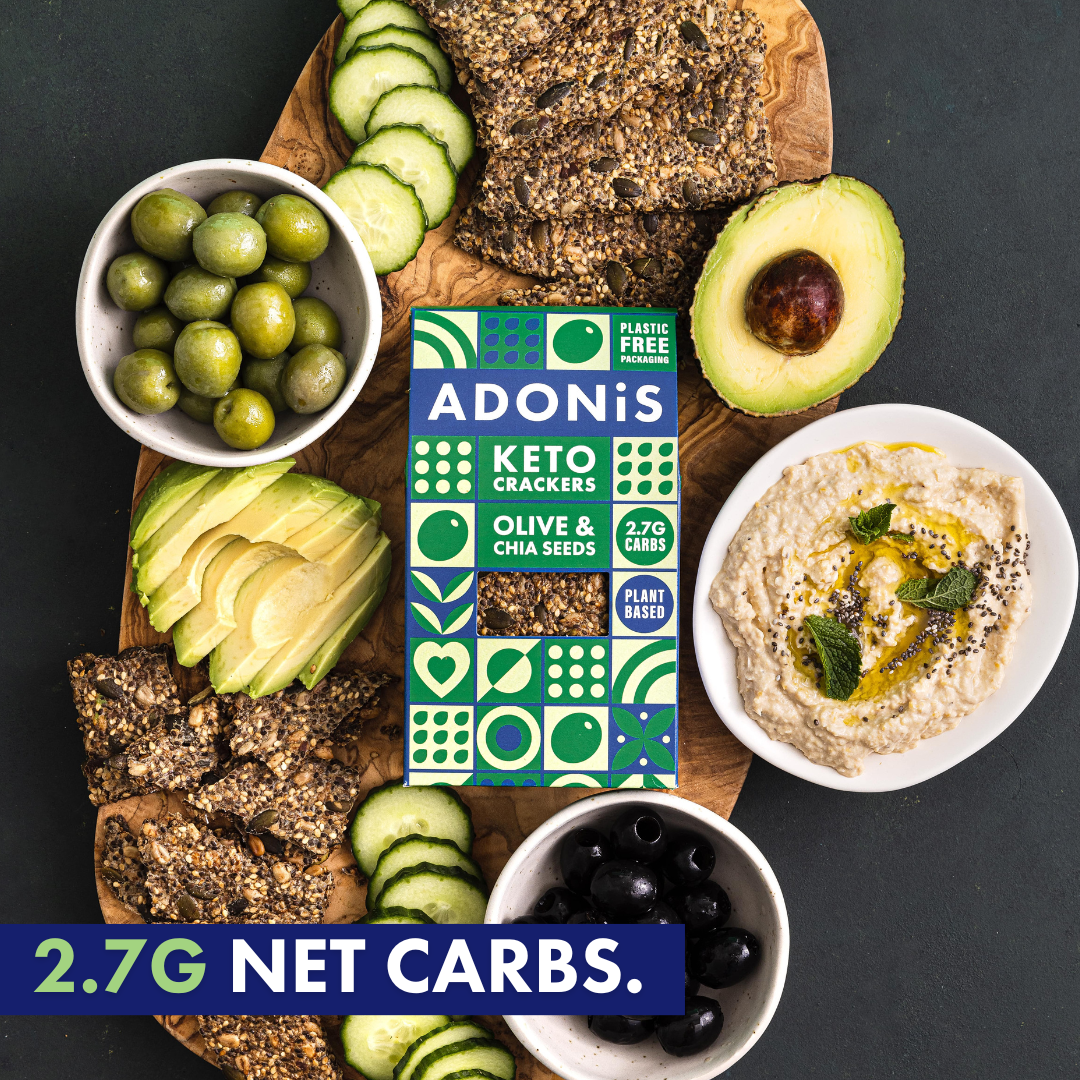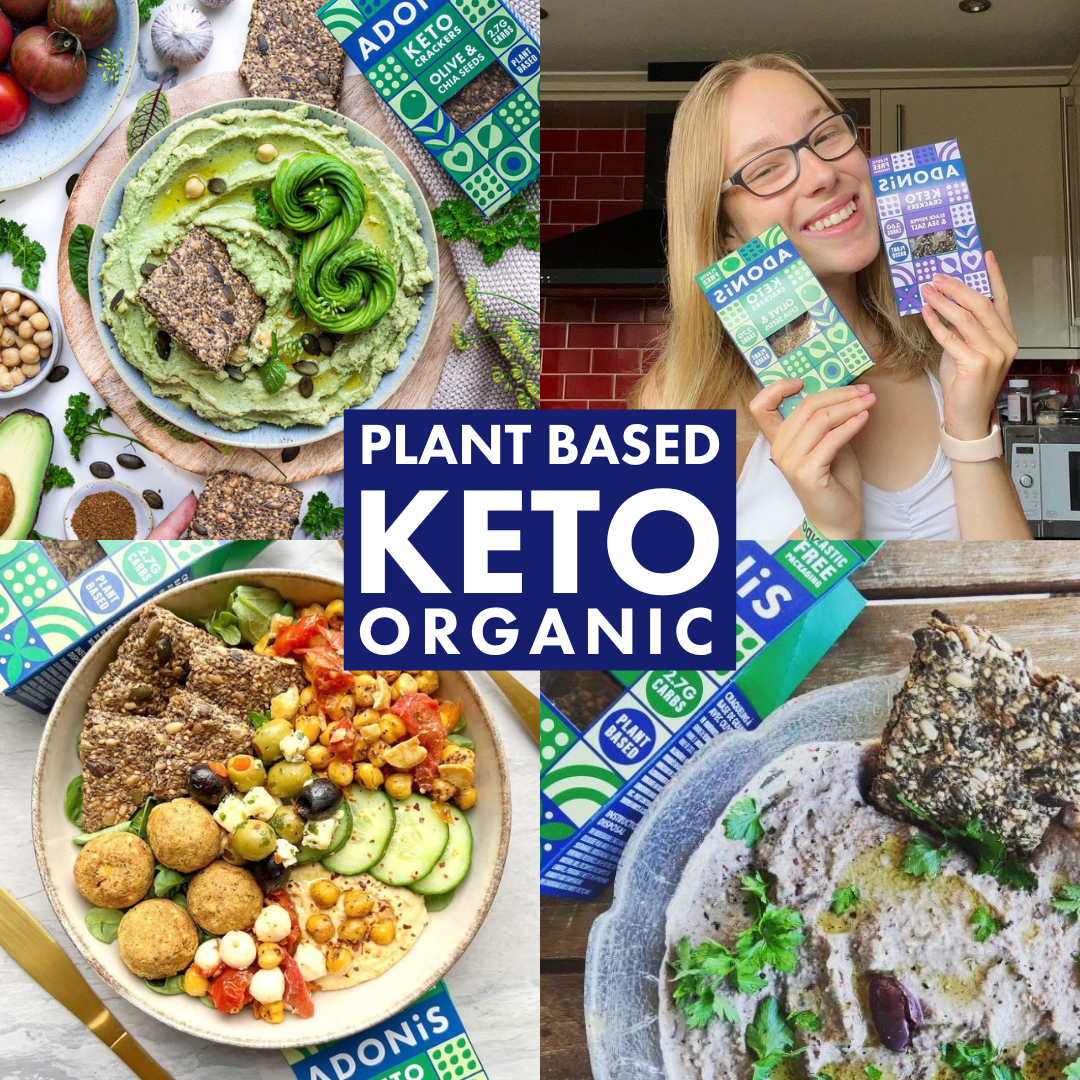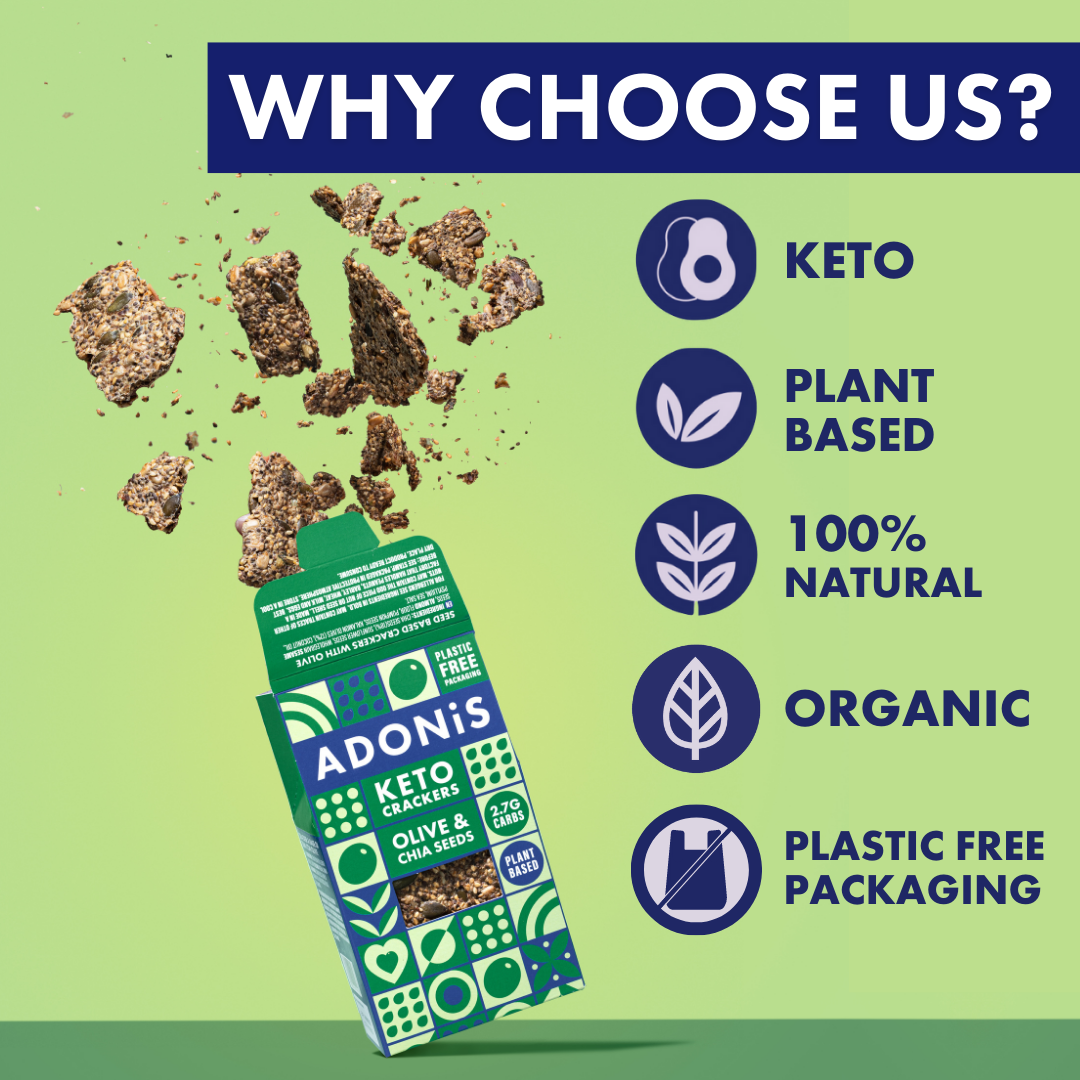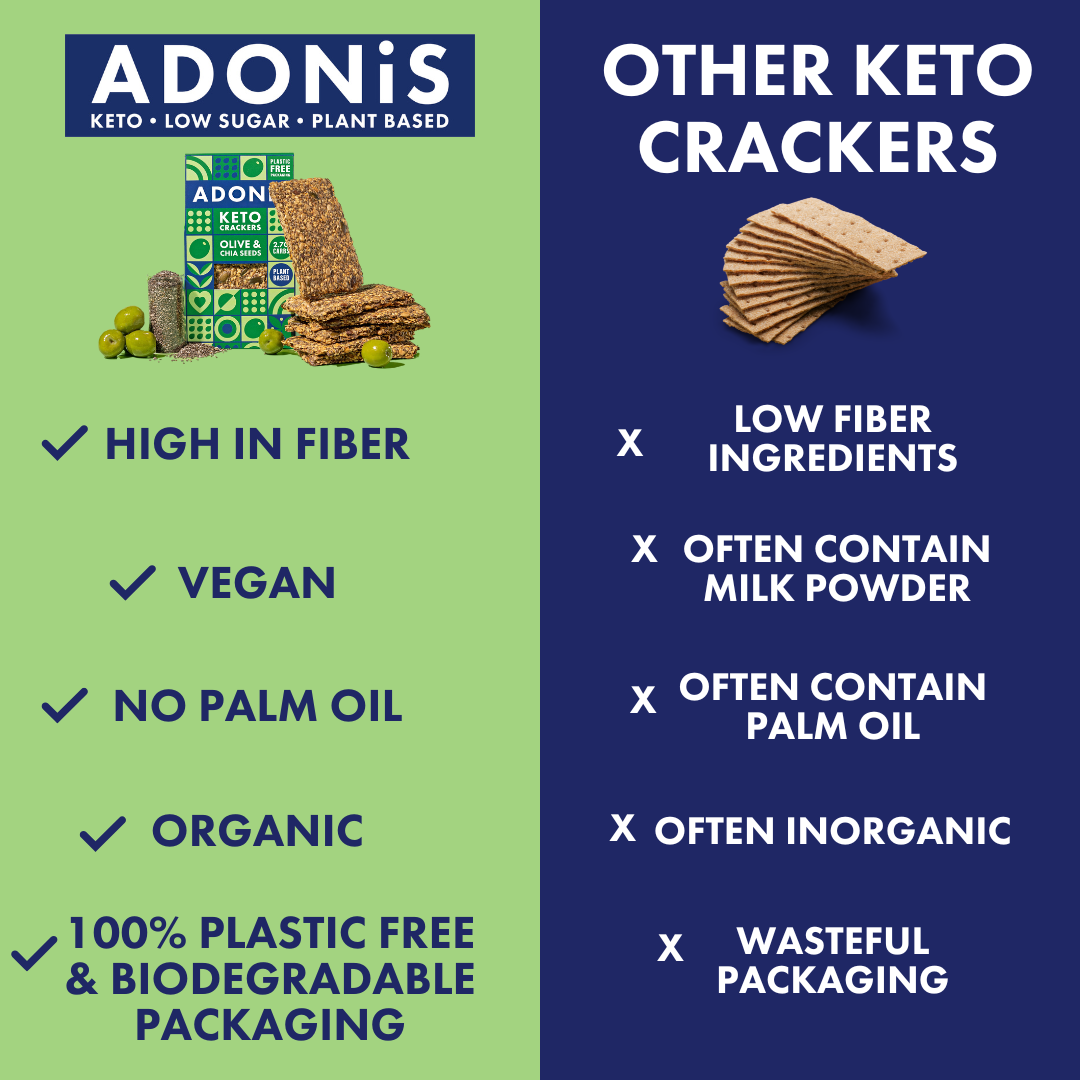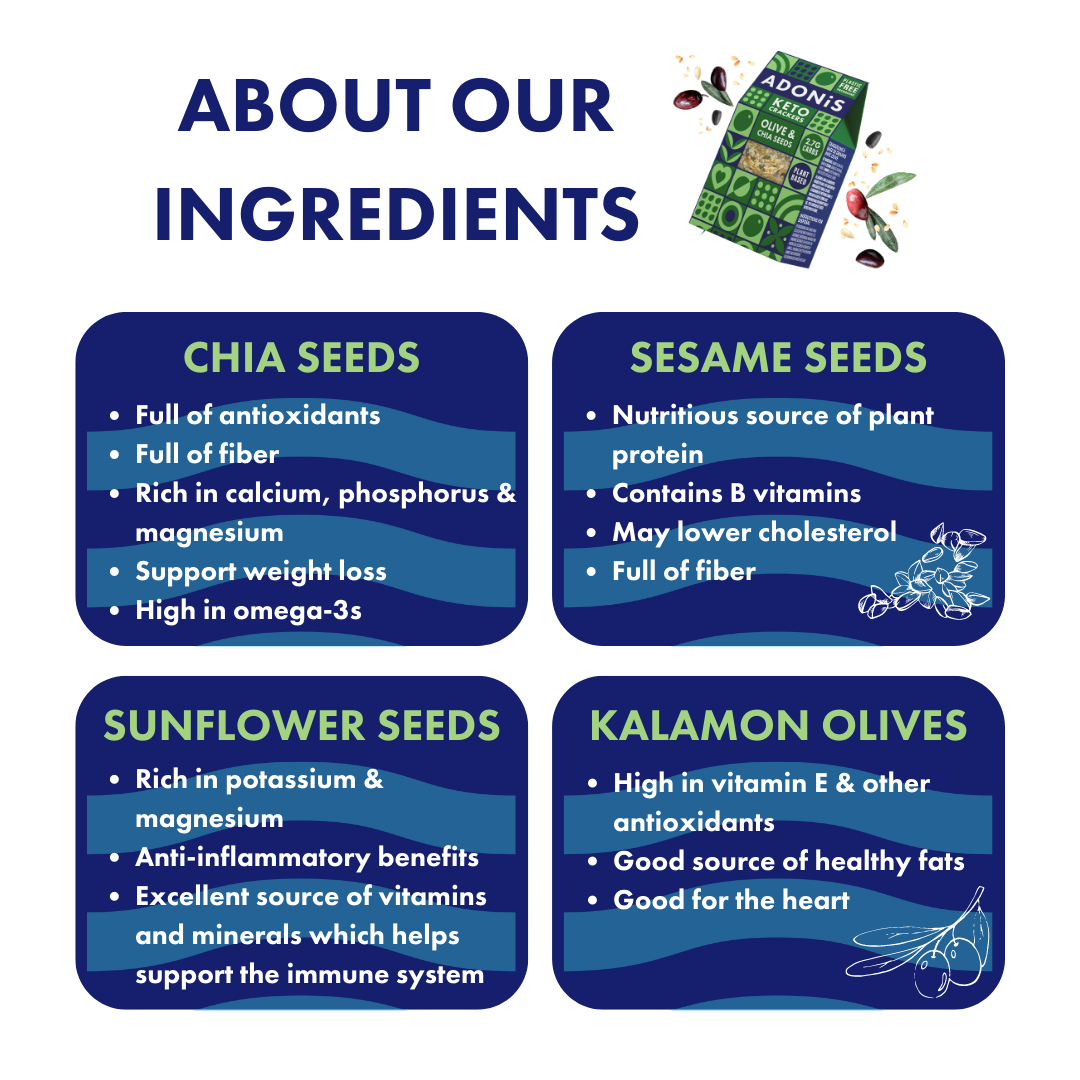 Olive & Chia Seeds Keto Crackers (10x60g)
Olive & Chia Seeds Keto Crackers
Your Low-Carb Bread Replacement
The missing piece of your keto diet: Finally you can put all your keto toppings on a healthy, crunchy and low carb base. 🥪
Versatile and Convenient
The perfect addition to any salad, soup or selection of dips - these crackers are ideal for easy on-the go snacking.
A Crunchy Cracker Delight
These guilt-free baked crackers with olive and chia seeds are packed with fiber and healthy fats! Ultra low carb at just 1.8g net carbs per average cracker. 🫒
Clean and Sustainable
Palm oil, GMO and dairy free, vegan and keto friendly, with 100% bio-degradable packaging (yes, even the bag!) 🌱

Chia Seeds: are full of antioxidants, fibre and many other essential nutrients such as calcium and magnesium.

Sunflower Seeds: are a classic keto-friendly ingredient. As well as being low carb, their richness in potassium and magnesium is perfect for helping with keto side effects.

Sesame Seeds: are a nutritious source of plant protein and are full of fiber and B vitamins.

Kalamon Olives: are what gives these keto crackers their Mediterranean charm. As well as providing a distinctive flavour, olives are also high in vitamin E.
Ingredients: Chia Seeds (18%), Sunflower Seeds, Wholegrain Sesame Seeds, Almond Flour, Pumpkin Seeds, Kalamon Olives (12%), Coconut Oil, Psyllium, Sea Salt.
We offer free delivery over £35 (£2.99 if under) but subscription orders have free shipping, ALWAYS!

If you place an order before 10:30am on a weekday, we will despatch it the same day. Otherwise, it will be despatched on the next working day.

If you ordered or received the wrong item, or there is another problem with your order, you can return them within 30 days of delivery. To start a return, please send us your order confirmation and a photo of your order with your reason for return to hello@adonis-foods.com

We will investigate the issues and if the return is accepted, you will receive a shipment label to return your item free of charge. Refunds will then be sent via the original payment method no later than 30 days after the returned products have been received.
"
ADONiS vs OTHERS
ADONiS
OTHERS
ADONiS COMMUNITY
At ADONiS, we strive to create a strong community of supportive and like-minded individuals who value healthy eating. We believe in making plant based keto snacks accessible for all.
3M BARS SOLD TO DATE
Founded in 2016 by Ingo Braeunlich, ADONiS' mission was simple: to fight the overconsumption of sugar and provide a healthier alternative to traditional snacking. Today, ADONiS has sold over 3 million bars to date, and is now a leader in the keto snacking industry.
TRIED AND TESTED
All of our products are designed to be the perfect macros for the keto diet. This means no spike in your blood sugar levels and no energy crashes.