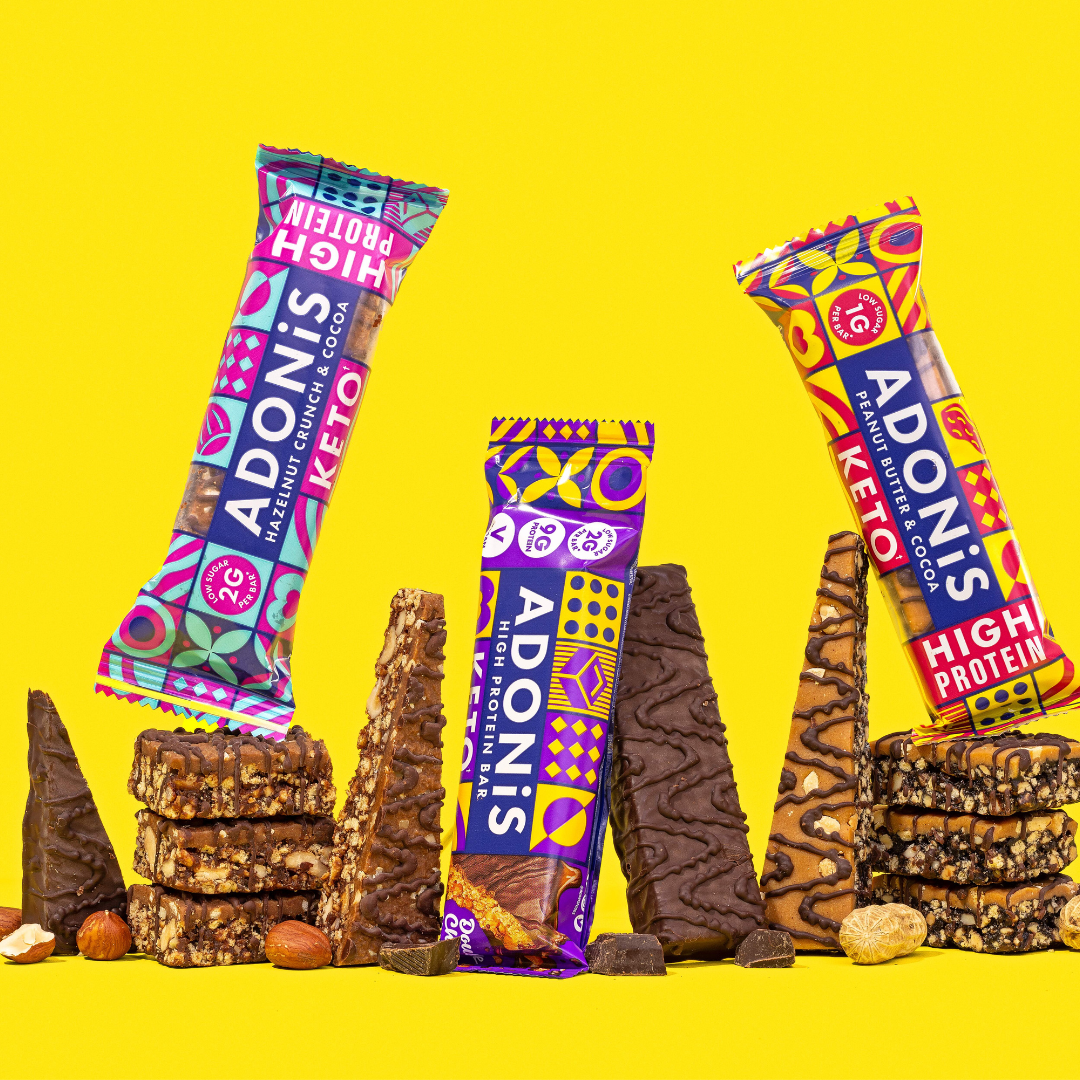 Mixed Keto Box with Protein Bars (16x45g)
Mixed Box of Keto Protein Bars
Low sugar, high protein keto
 

snack
Made from natural ingredients
16 x 45g Bars From £26.90
Like our Keto Protein Bars? Try all 3 flavours and choose your personal favourite! 
Each bar has just 2-4g net carbs, only 1-2g natural sugar, and 9-10g protein! They're all 
100% vegan & keto-friendly, with 9 added vitamins! 🌱
Double Choc Crisp 🍫
Indulge in the ultimate protein-packed snack with our new Double Chocolate Crisp Keto Bar! Featuring our signature crispies and a rich, velvety chocolate coating, this bar is sure to satisfy your sweet tooth while delivering a powerful protein punch!

Peanut Butter & Cocoa 🥜
The perfect snack for pre/post workout, a mid-afternoon booster, a breakfast bowl topper - this bar is perfect for every occasion! With a smooth peanut butter layer, surrounded by crunchy peanuts and chocolaty goodness, you will be left feeling energised and satisfied.

Hazelnut Crunch & Cocoa 🌰
Our Hazelnut Crunch Keto Bars have a smooth peanut butter layer which adds a delicious flavour and creamy texture! Heading for a run, the gym, or any workout... make sure to grab one before you go!
Simply click on any bar flavour to see ingredients & nutritional information.
Simply click on any bar flavour to see ingredients & nutritional information.
Simply click on any bar flavour to see ingredients & nutritional information.
We offer free delivery over £35 (£2.99 if under) but subscription orders have free shipping, ALWAYS!

If you place an order before 10:30am on a weekday, we will despatch it the same day. Otherwise, it will be despatched on the next working day.

If you ordered or received the wrong item, or there is another problem with your order, you can return them within 30 days of delivery. To start a return, please send us your order confirmation and a photo of your order with your reason for return to hello@adonis-foods.com

We will investigate the issues and if the return is accepted, you will receive a shipment label to return your item free of charge. Refunds will then be sent via the original payment method no later than 30 days after the returned products have been received.
"
ADONiS vs OTHERS
ADONiS
OTHERS
ADONiS COMMUNITY
At ADONiS, we strive to create a strong community of supportive and like-minded individuals who value healthy eating. We believe in making plant based keto snacks accessible for all.
3M BARS SOLD TO DATE
Founded in 2016 by Ingo Braeunlich, ADONiS' mission was simple: to fight the overconsumption of sugar and provide a healthier alternative to traditional snacking. Today, ADONiS has sold over 3 million bars to date, and is now a leader in the keto snacking industry.
TRIED AND TESTED
All of our products are designed to be the perfect macros for the keto diet. This means no spike in your blood sugar levels and no energy crashes.